Finding that special someone the perfect gift can be stressful enough. Potentially paying a gift tax on that item can be even more stressful. So, what is the gift tax, how does it work, and how can you avoid it? Read below to find out.
What Is a Gift Tax?
Gift tax is a tax that someone has to pay when they transfer a gift like property or money to someone other than their spouse. The IRS defines a gift as a transfer of property from one individual to another, where the giver doesn't receive payment for the full market value. Stocks or real estate may also be given as gifts, as well as money.
The gift tax was introduced in 1924, repealed in 1926, then revamped and re-enacted in 1932. In its original form, the tax was enacted to minimize estate and income tax avoidance, which would usually be done by "gifting" money or property to someone else.
How a Gift Tax Works
It may be surprising to find out that gifts can be taxed but don't worry, most people will never have to pay a gift tax. The IRS generally isn't involved unless a gift exceeds $16,000 as of 2022. Even then, it may only result in extra paperwork.
This tax does not apply to all gifts, however. Some gifts are completely free of tax, such as:
School tuition and education payments (if the gift is paid directly to the institution)
Charitable donations
Medical expenses (paid directly to the institution)
Political contributions
Transfers or gifts to a spouse if they are a U.S. citizen
Who Pays the Gift Tax?
Generally, you do not have to worry about paying any taxes on gifts you receive from loved ones. Typically, the person who gives the gift files a gift tax return (Form 709) and potentially pays the gift tax, not the receiver.
However, the income from the assets may be taxable if they later generate income through interest, dividends, or rent, for example.
How Do I Avoid Gift Tax?
There are two exclusions that stop most people from ever paying a gift tax: the annual exclusion and the lifetime exclusion. Stay within those two exclusions, and you will be fine. Exceed them, and you will likely have to fill out a gift tax form when filing returns, but you still might avoid paying any gift tax.
Annual Exclusion
Annual gifts can be made up to a limit before they are reported under United States law. This limit is known as the annual exclusion. The annual exclusion for 2022 is $16,000, but in past, it has been less. Married couples may combine their annual limit and give up to $32,000 to an individual.
Gifts to different people are permitted. For example, if you have multiple children, you can give up to $16,000 to each child without reporting a taxable gift.
Lifetime Exclusion
You must report gifts over the annual exclusion on IRS Form 709, but you probably won't have to pay any tax now. Instead, these amounts count against your lifetime exclusion limit — around $11.7 million for single taxpayers and $23.4 million for married couples.
For example, if you gifted someone $30,000, you'd have to file a gift tax return for the amount over the annual exclusion, $14,000. However, that $14,000 would then also count toward your lifetime exclusion, so if you haven't used it up yet, you may not have to pay taxes on that money at that point.
Gifts made after your death may also be subject to gift taxes, such as those made through a will.
How to Calculate the Gift Tax
If you exceed the lifetime exclusion, the gift tax rate varies between 18% and 40%, depending on how much you go over the lifetime limit.
Here is a chart to explain further: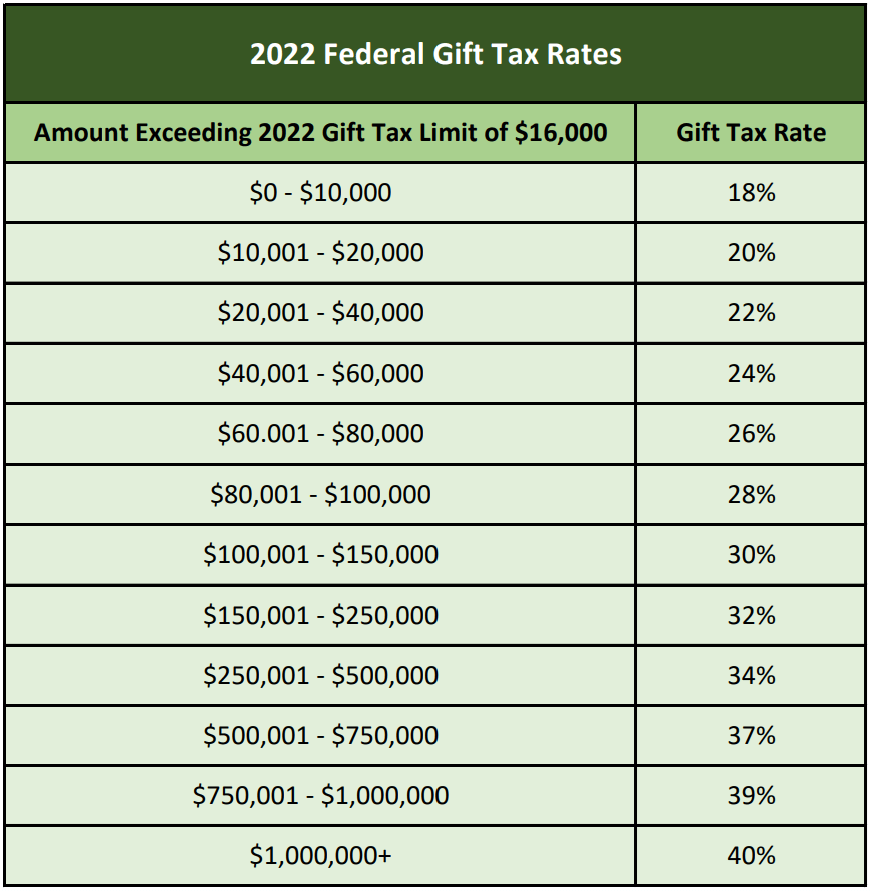 In summary, whether you are receiving a gift or giving one, you'll probably never have to pay a gift tax. But if you give a gift valued at more than $16,000 in one year, to an individual, you will likely have to fill out a little more paperwork come tax time. Even then, you'll rarely have to pay the gift tax due to the annual exclusion and lifetime exclusion.
So don't worry too much about potentially having to pay a gift tax and go back to focusing all your effort on finding the perfect gift.
Want tax tips in your inbox?